"EXCELLENCE IN COMMITMENT AND SERVICE"
Brysons Shipping, a department of Geo. W. Bennett Bryson & Co. Ltd., provides all customers with the best services for all their shipping needs. Our expertise and commitment to the shipping industry is well respected worldwide. Brysons Shipping has been operating as an independent air freight and ocean freight forwarding company for over 180 years and is your reliable partner for all your shipping services. We take care of the forwarding of nearly every shipment worldwide and we also offer the following services:
Cargo Shipping
Customs Brokerage
Ship Chandlers
Container Line Handling
Stevedoring Services
Specialized Cargo Discharge
Port Agency Services
Brysons Shipping is currently the oldest existing stevedoring agency which ensures top quality service and efficiency in loading and offloading cargo vessels in Antigua & Barbuda. Along with the expertise in handling stevedoring operations for the 3rd Largest Container Line in the world, CMA-CGM, Brysons Shipping also efficiently handles other various types of Port Agency and Stevedoring services.
The premier Yacht Transportation company, Seven Star Yacht Transport, utilizes Brysons Shipping Stevedoring services to handle its multimillion yachts. Peters & May, another premier world-known Yacht Transportation company, similarly utilizes Brysons as the preferred stevedoring and port agent to handle their multimillion yachts.
Brysons Shipping represents the following companies: Kawasaki, Kisen, Kaisha, Mitsui, Clipper Americans, West Indies Freight and Air Express International from the U.K. The top Japanese Car Company, K Line, also utilises Brysons stevedoring services to discharge and offload their cargo. Brysons Shipping also offers stevedoring services for lumber companies and we are diversified to also to include stevedoring for steel operations. We have offloaded large powerplants in conjunction with overseas companies and we currently clear international cargo for overseas clients. We have cleared cargo for major projects such as Cricket World Cup and we also engage in clearing cargo for international companies like Payless Shoe Company and Rubis International Oil Company.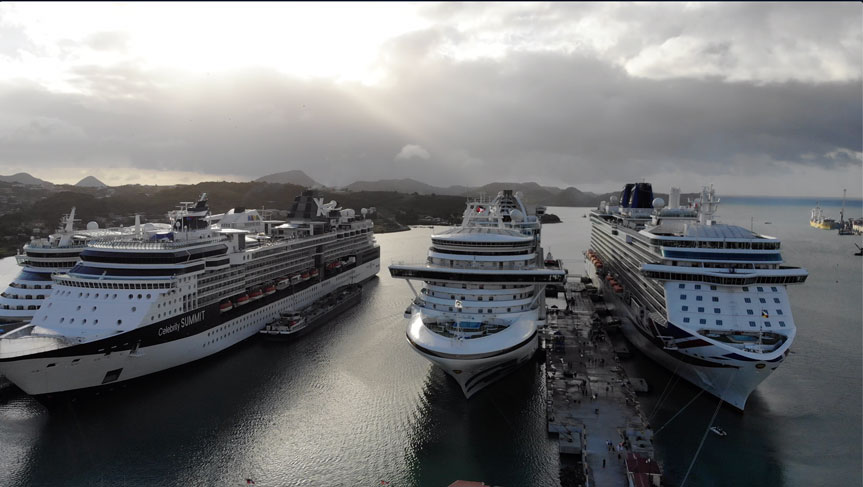 Brysons Shipping also represents 98% of all major cruise lines that call on St. John's, including: Aida Cruises, Costa Cruises, Carnival Cruise Line, Campagne Des lles Du Ponant, Cunard Line Ltd, Crystal Cruises, Dr Holding Corp, Fred Olsen Cruise Line, Holland America Line, International Maritime Resources. Jubilee Sailing and Trust, Mediterranean Shipping Co, Majestic Cruises Lines, Norwegian Cruise Lines, Oceania Cruises Inc, P&O Cruises, Princess Cruises, Royal Caribbean, Silversea Cruises, Sea Dream Yacht Club, Saga Shipping, V Ships Leisure.